Effective February 1, 2015, there will be a $1.00 per hour charge for the first 5 hours of parking in all BNIA lots (excluding the Daily/Hourly Garage where current rates remain in effect). The daily rate for each parking lot will apply after 5 hours.
PARKING INFORMATION BUF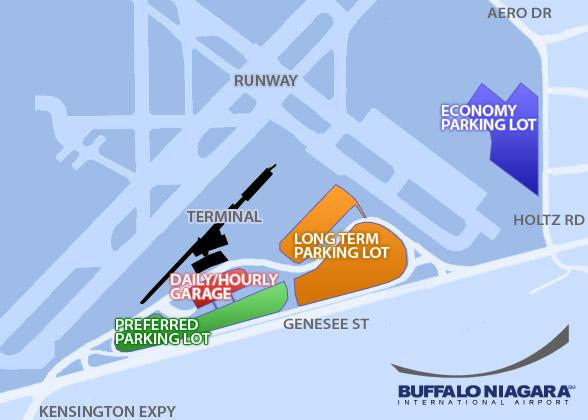 Off-Airport Parking Operators (7 Day Parking Period)

On-Airport Parking

Thrifty Airport Parking
Airport Valet Parking
The Parking Spot

Economy Parking Lot

Sub-Total
$48.93
$49.95
$62.65

$45.00

Taxes/Fees
$7.48
$6.65
$9.57

$3.94

Total
$56.41
$56.60
$72.22

$48.94

Online Booking
Self Park Rate
Online Booking
Rate comparison is based on a 7 day parking period as provided on the websites of each operator (theparkingspot.com, thriftybuffalo.com/parking/ and buffaloairportvaletparking.com) – Comparison as of 3/14/14 for illustrative purposes. Current rates and requirements may vary.
Parking Calculator
Select a start and end date and time for your anticipated stay by clicking on the appropriate icons and then click the calculate button to display the parking rates based on your input. Amounts will vary if your actual time entering or exiting the lot changes.