Home | Reserved Covered Parking | Daily/Hourly Garage | Preferred Parking | Long Term | Economy
PARKING INFORMATION:
Long Term Parking Lot (Orange Signs)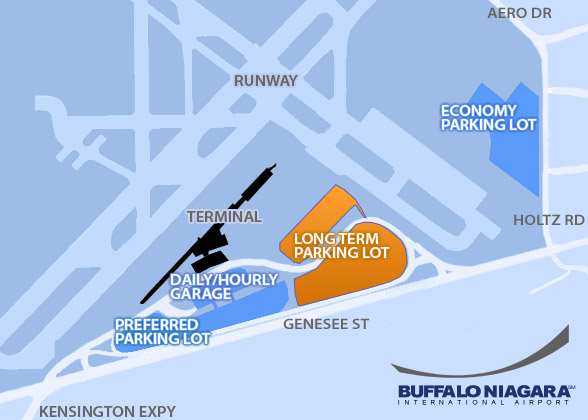 Long Term Parking Lot: 4200 Genesee St, Buffalo, NY 14225
Hourly Rate: $1 per hour for up to 5 hours (over 5 hours charged at Daily Max)
Daily Maximum: $10
Weekly Maximum: $50
$1 for up to 5-hours includes NYS Sales Tax. Listed Daily & Weekly rates are subject to 8.75% NYS Sales Tax.
The Long Term Parking Lot at Buffalo Niagara International Airport (BUF) is designed for those making longer trips. Our convenient FREE shuttle service runs to and from the terminal 24-hours a day, 7-days a week!.
Parking Calculator
Select a start and end date and time for your anticipated stay by clicking on the appropriate icons and then click the calculate button to display the parking rates based on your input. Amounts will vary if your actual time entering or exiting the lot changes.